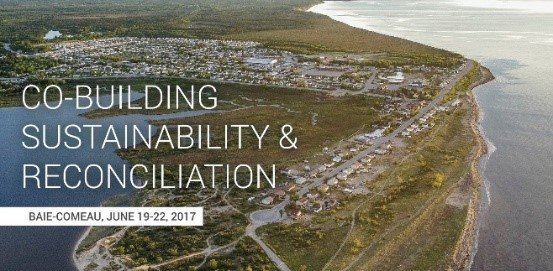 13 Jul

Co-building Sustainability and Reconciliation

The CCRN co-sponsored a 'Co-building Sustainability and Reconciliation' meeting of Canadian biosphere reserves (BRs) from June 19-22, 2017.  Hosted by the Manicouagan-Uapishka Biosphere Reserve in Baie-Comeau, Quebec, Indigenous leaders, academics, and government representatives joined staff and volunteers from 17 out of Canada's 18 BRs.

There are 669 UNESCO-designated BRs in 120 countries, including 20 transboundary sites (UNESCO, Accessed July 11, 2017), all with a mandate to promote biodiversity conservation, sustainable development and livelihoods through research, education and training.  At this meeting, Canadian BRs committed to reconciliation as an additional pillar of their mandate, answering the national call for "collective efforts…to revitalize the relationship between Aboriginal peoples and Canadian society" (Truth and Reconciliation Commission of Canada, 2017).  Each person reflected on what reconciliation means to them individually, and breakout groups identified actions for incorporating reconciliation with Indigenous peoples into the governance and activities of Canadian BRs.

Watch this video of participants speaking about what reconciliation means to them

Over 4 days, CCRN researchers Minerva Arce-Ibarra and Sharmalene Mendis-Millard, along with CCRN affiliate Meriem Bouamrane from UNESCO, enjoyed warm hospitality, field trips and engaging discussions with 60 other participants. Minerva spoke about how Mexican BRs are structured and funded differently, and offered her perspective and curiosity as someone starting to learn about the Canadian BR context.  Sharmalene facilitated small group discussions, and Meriem reminded the group of the importance of their work, and how they are not alone; others globally are grappling with similar problems and taking actions that ultimately contribute to UNESCO's goal of a peaceful world.

The group learned a bit about Canada's history, international and national commitments, and injustices Indigenous communities and peoples are still facing that shape the need for reconciliation today.  Representatives from the Pessamit Innu First Nation spoke about their efforts to have their rights respected.  As an example, they are calling for a stop to the practice of generating peak energy from a Hydro-Québec dam on their territory, which is causing severe damage to an important river for salmon and their way of life. To learn more about some of what was discussed, watch Larry McDermott's CCRN webinar, 'Indigenous Engagement: Principles to Guide Process and Action for Reconciliation', and 'An Indefensible Privilege: Wiping out the Betsiamites River Salmon to Light Up Cities' about Pessamit Innu First Nation's story.

The group also heard a song and stories about the resilience of Indigenous peoples, opportunities for working together for a more sustainable future, and work already underway in several BRs. The Pessamit Innu Nation, for instance, has found value in working with Manacouagan-Uapishka BR on conservation and sustainable development projects for mutual benefit. "Groups like UNESCO can benefit from our Indigenous knowledge to create policies and measures to protect the environment….Our partnership with UNESCO becomes a symbol of honour, it is something our young people can be proud of, and it is proof to the outside world we value our land" said Raymond Rousselot, Band councilor for the Pessamit Innu Nation (CBC July 7, 2017).

Watch Eskasoni First Nation's Kalolin Johnson sing 'We Shall Remain (It Wasn't Taken Away)'

As a bonus, the Canada Coast to Coast to Coast (Canada C3) expedition joined the group for a bit. This was fitting, as Canada C3 participants are engaging in conversations about diversity and inclusion, reconciliation, youth engagement, and the environment, and hoping people across the nation follow their journey of discovery.

Finally, the Pessamit Innu First Nation hosted a special National Aboriginal Day event, showcasing traditional Indigenous foods in outdoor barbeque and gourmet styles, their history, songs, dances, and locally-made crafts. At this community celebration, the Canadian Biosphere Reserves Association (CBRA) unveiled a Call to Action, which, in the words of Sébastien Goupil (Secretary General of the Canadian Commission for UNESCO), "…is a strong reminder that the sites designated by UNESCO in Canada and around the world have the responsibility to actively contribute to strengthening ties with indigenous peoples. Canadian Biosphere Reserves are ideally positioned to show how we move from words to action" (National Celebration in Pessamit Press Release, June 2017).
---
Author: Sharmalene Mendis-Millard