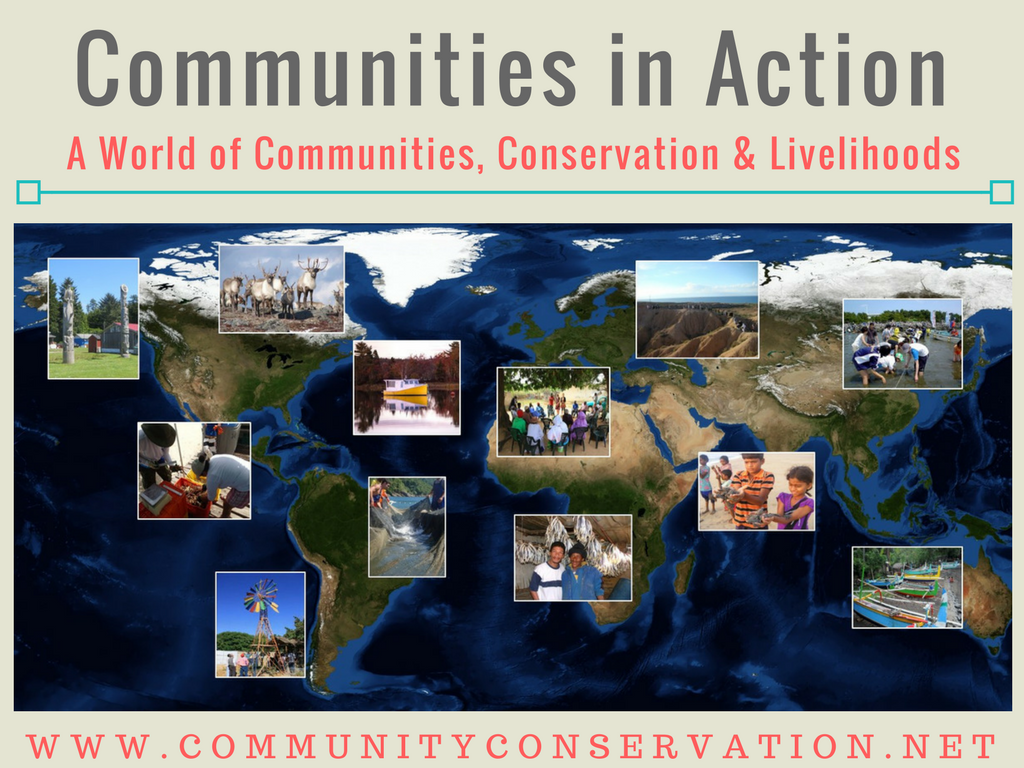 12 Apr

New Online Tool Helps Communities Across the World Share Their Stories of Grassroots Environmental and Economic Sustainability

The Community Conservation Research Network is pleased to announce the launch of Communities in Action, a new global initiative to bring together and highlight the many experiences of local communities around the world, working to protect their environment and sustain their livelihoods.

The planet is facing many serious environmental threats, but never before have so many people been united in a common cause… protecting the environment around us. Around the globe, local communities are at the forefront in taking on the challenges – protecting and improving the air they breathe, the water they drink, the places they live in, the resources they use. Communities are finding conservation solutions locally, in their own neighbourhoods, while maintaining and creating sustainable livelihoods and local economies. Around the world, there are so many success stories, all deserving to be celebrated.

That is the idea behind the Community Conservation Research Network (CCRN), a global initiative focused on the links among conservation, sustainable livelihoods and supportive government policy. The CCRN places the spotlight on communities protecting their environment and sustaining their livelihoods – bringing together knowledge and experience from around the world, and making it widely available. That way, the CCRN enables communities to choose the best options that work for them, so they can take control of their own future – a future with a sustainable economy and a healthy environment.

At the heart of Communities in Action is an on-line interactive map displaying all of these local community experiences, provided directly by the communities, or by non-profit organizations, government agencies, civil society, researchers and others. This resource will help communities to highlight and share their stories with others, help decision-makers to see clearly the impressive extent of community initiatives globally, and help us all to better understand what works best in linking local conservation and healthy local economies.

The online tool lets communities share their successes in protecting their community, environment and livelihood with other groups around the world. By sharing these examples online – contributed by local community members, as well as non-profit organizations, government agencies, and researchers – other communities can use them or adapt them for use in their own community.

We are especially keen for Communities in Action to highlight stories coming directly from local communities, and from community-focused organizations, networks or coalitions. Accordingly, we welcome contributions to Communities in Action, each focused on a specific community, as an opportunity to share these community experiences from around the world. The idea is to literally "put communities on the map"!
---
The CCRN's website (www.CommunityConservation.net) serves as a focal point for knowledge sharing and capacity building on the links between Communities, Conservation and Livelihoods, providing a hub for community-based conservation studies around the world. The website has a series of Community Stories, a variety of videos on communities dealing with environmental and livelihood challenges, and community resources for best connecting conservation and sustainable livelihoods.